Source: Unstrung Insider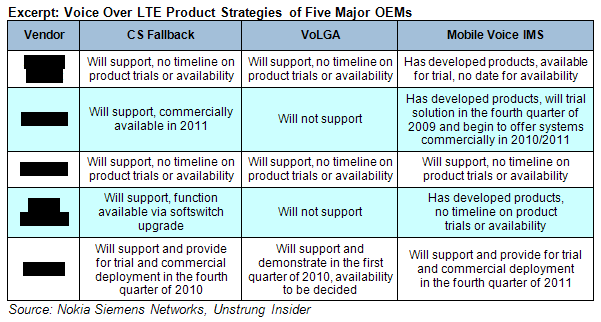 Most in the mobile industry agree that Long Term Evolution (LTE) technology is the way forward for data: It can support impressive data rates and has the potential to revolutionize mobile communications with a host of innovative, high-bandwidth applications. Yet for all the promise inherent in its blazing speeds, LTE still needs a commercially and technically acceptable solution for dealing with the industry's cash-cow voice service. Although declining, voice still accounts for more than 75 percent of wireless services revenue.
Voice Over LTE: Many Questions, No Easy Answers
analyzes the various scenarios envisioned by the mobile communications industry for providing voice over LTE. It examines the different options vendors are proposing and the difficult choices facing mobile operators that view voice as essential to the successful launch of their new next-generation networks. Finally, the report also profiles 11 companies, exploring their voice over LTE strategies.